School-Year Session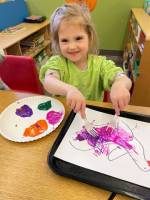 Preschool School-Year Session
Late August through early June (aligns closely with Columbia Public School calendar)
Ages 2-5 year-olds
Extra Days:
These are days during the school- year session that can be added to your contract. They include the day before Thanksgiving, days around Christmas and New Year's Day, MLK Day, Presidents' Day, and Spring Break.
Families may register for any or all Extra Days as needed, and as space allows. Extra Days are also available for school-age children up to age 12.

Summer Session
Preschool Summer Session:
Early June through late August
Available to TLCLC school-year students and other children in our community who are in this age group and need care over the summer
Ages 2-5 year-olds
Pre-K Half Summer:
This short session is available for pre-kindergarten children who attend CPS summer school and need care for the second half of the summer.
School-Age Summer Camps :
Our school-age summer program is for children who have finished kindergarten through Sth grade in the previous school year. e Families may sign up their child for individual days, a week at a time,